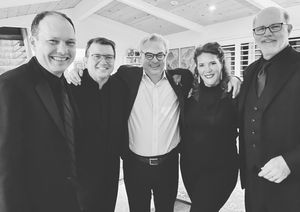 Latest Works: 2021-2022
Cosmic Cycles, A Space Symphony
(2023)
Composed in collaboration with NASA's Goddard Space Flight Center, Henry's musical exploration of the universe and its origins is performed live against a backdrop of out-of-this-world images, animations, and groundbreaking visualizations from the Hubble and James Webb Space Telescopes. Premieres May 2023.
Rhapsody for Violin and Orchestra (2022)
Henry met renowned violinist Gil Shaham at National Philharmonic's season opening concert in October 2021. After the concert, they had a chance to talk, and Gil enjoined Henry to write a violin concert work. Henry's episodic work evokes a wonderful sense of improvisation and spontaneous inspiration.
Return to the Moon: Fanfare to Artemis (2022)
This powerful anthem for brass, timpani and percussion marked the rollout of NASA's Space Launch System, the world's most powerful rocket and main launch vehicle of the historic Artemis lunar program, during a televised ceremony on March 12, 2022, at the Kennedy Space Center.
Requiem in Seven Movements (2021)
A setting of the Requiem Mass with additional texts by James Joyce and John Donne. Scored for SATB chorus, soloists, and orchestra, it was composed in loving memory of the composer's dear friend, Neil Dellar, a talented lawyer with a splendid baritone voice who was an active patron of the arts.
Fantasia in Groove:  Impressions of L.A. for Cello and Piano (2021)
A concert suite of urban impressions, Fantasia is inspired by familiar L.A. cityscapes. Mulholland Overlook evokes rugged landscapes and panoramic nights views. Hollywood Intermedio draws inspiration from Old Hollywood noir, while Cahuenga Corridor evokes the fast-paced, stop-and-go groove of big-city life.
Ring Out, Ye Bells!
(2021)
African-American poet, novelist, and short story writer Paul Laurence Dunbar's reverent Christmas hymn is eloquently expressed in this joyous and accessible setting for SATB chorus and organ. The driving accompaniment sets up the joyous text in this thrilling Christmas concert opener or closer.
City Dusk for Baritone and String Quartet (2022)
Written for the composer's friend and bass-baritone extraordinaire, Kerry Wilkerson, City Dusk was a  request for the Berkshire High Peaks Festival in Great Barrington, MA. The theme was the "Roaring Twenties," so what better text could Henry set than a beautifully noir poem by F. Scott Fitzgerald?
I Heard the Bells on Christmas Day (2021)
A brand new choral setting of Henry Wadsworth Longfellow's Christmas Bells, which tells of the poet's despair upon hearing Christmas bells ringing amidst the chaos of the American Civil War. Arranged for SATB choir, organ and glockenspiel, the mood is powerfully uplifting as the bells ring forth a renewed hope for peace. Solo voice with harp also available.
Mistletoe
(2021)
Sung in unison, two, and four-part round with or without piano accompaniment, this lively setting of Walter de la Mare's much loved Christmas poem is sure to delight audiences and singers alike.