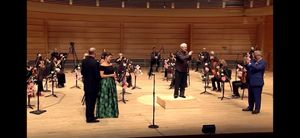 ---
COMPOSER'S NOTE
Amore e 'l cor gentil sono una cosa is a pièce d'occasion written for the Florence, Italy nuptials of two of my closest friends, Jennifer and Eddie. 
The full title translates to "Love and the gentle heart are one and the same." What better text could I set than a beautiful love sonnet in Italian from La vita nuova by Dante, the revered Florentine poet?
On May 23, 2021, Amore kicked off National Philharmonic's Spring 2021 concert, Amore & Mozart, which was broadcast on WETA-TV, Washington's PBS station. Opera News called it, "a loving and clever duet, and a true gem of a song."
Led by conductor Piotr Gajewski, the concert featured my favorite operatic duo of Met soprano Danielle Talamantes and bass-baritone Kerry Wilkerson—who sang it at the wedding!
THE TEXT 
Amore e 'l cor gentil sono una cosa, 
Sì come il saggio in suo dittare pone, 
E così esser l'un sanza l'altro osa  
Com/alma razional sanza ragione. 
Falli natura quand'è amorosa, 
Amor per sire e 'l cor per sua magione, 
Dentro la qual dormendo si riposa 
Tal volta poca e tal lunga stagione. 
Bieltate appare in saggia donna pui, 
Che piace a gli occhi sì, che dentro al core 
Nasce un disio de la cosa piacente; 
E tanto dura talora in costui, 
Che fa svegliar lo spirito d'Amore.     
E simil face in donna omo valente. 
TRANSLATION 
Love and the gentle heart are one same thing, 
Even as the wise man in his ditty saith: 
Each, of itself, would be such life in death 
As rational soul bereft of reasoning. 
'Tis nature makes them when she loves: a king 
Love is, whose palace where he sojourneth 
Is called the heart; there draws he quiet breath 
At first, with brief or longer slumbering. 
Then beauty seen in virtuous womankind 
Will make the eyes desire, and through the heart 
Send the desiring of the eyes again; 
Where often it abides so long enshrin'd 
That Love at length out of his sleep will start. 
And women feel the same for worthy men. 
Dante Alighieri, 1265 - 1321 
(Trans. Dante Gabriel Rossetti)