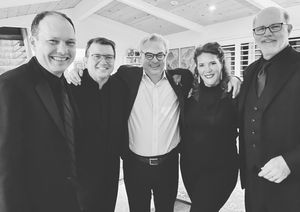 "The songs are diverse in atmosphere and harmonic language, as befits the narratives, and the writing is rich, often rapturous, as voices and piano meld with urgent purpose."
Bahnhofstrasse (2019) - 4½'
for high voice and piano, or
medium voice and piano
---
---
COMPOSER'S NOTE
Bahnhofstrasse is an existential piece about the loss of youth. In 1917, James Joyce suffered a sudden and painful attack of lumbago while walking along the Bahnhofstrasse, the chic main street in Zurich, Switzerland. His condition was compounded by increasing blindness as a result of glaucoma. 
My setting underscores Joyce's angst as he discovers youth is fleeting. Yet, being middle-aged, he realizes he's not old enough to benefit from the "old heart's wisdom" that comes in the autumn of life. The solo vocal line floats wistfully over a minimalist accompaniment that reiterates a simple, eerie motif.
Bahnhofstrasse is suitable for recitals, competitions and auditions and is available in high voice (soprano or tenor) and medium voice (mezzo-soprano or baritone) versions. It also forms part of my complete collection of art songs with texts by James Joyce:
Ten Poems of James Joyce (High Voice and Piano)
Ten Poems of James Joyce (Medium Voice and Piano)
Bahnhofstrasse is available in a choral version (SATB) and is included in my choral suite, Three Choral Songs on James Joyce.
THE TEXT 
The eyes that mock me sign the way 
Whereto I pass at eve of day. 
Grey way whose violet signals are 
The trysting and the twining star. 
Ah star of evil! star of pain! 
Highhearted youth comes not again. 
Nor old heart's wisdom yet to know 
The signs that mock me as I go. 
James Joyce, 1882 - 1941