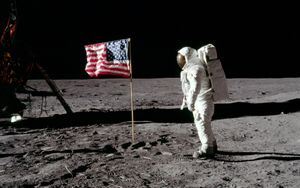 LICENSING
American Society of Composers, Authors and Publishers (ASCAP)
WORLD PREMIERE
March 17, 2022
Kennedy Space Center, FL
"It was perhaps the most traditionally triumphant-sounding skyward salute of the evening — the Space Force could learn a thing or two. But with its big blasts of brass, it was also a reminder of what we want from the heavens in the first place: a sign that someone's listening."
---
COMPOSER'S NOTE
Return to the Moon is a fanfare for brass ensemble of fifteen players, including timpani and percussion. (An arrangement for full orchestra is available as part of the Cosmic Cycles, A Space Symphony film concert.) This new anthem heralds NASA's historic Artemis missions, which will lead humanity back to the Moon and prepare for the exploration of Mars.
It is dedicated to the NASA astronauts, scientists, engineers, administrators, support staff and international partners, who are enabling this new era of human exploration.
Artemis I launched in 2022 on the world's most powerful rocket - NASA's Space Launch System (SLS), the 322-foot tall rocket with the Orion crew capsule up top. It will be the first in a series of increasingly complex missions that will provide the foundation for human deep space exploration.
Through the Artemis missions, NASA will land the first woman and the first person of color on the Moon, paving the way for a long-term lunar presence and serving as a steppingstone on the way to Mars.
Return to the Moon made its world premiere on March 17, 2022 at the space agency's televised rollout ceremony. The University of Central Florida Symphonic Band under the direction of Dave Schreier performed the anthem as the SLS began its 4-mile journey from the Vehicle Assembly Building to Launch Pad 39B at NASA's Kennedy Space Center in Florida.
The fanfare has two broad sections: Stately and solemn and Majestic and triumphant. The concluding cadence evokes the descent to the lunar surface before sweeping to a triumphant forte fortissimo climax.
Performance time is 4¼ minutes. If the ceremonial occasion dictates, a 2½-minute version can be performed by starting from the Majestic and triumphant section on Page 8 of the full score.
Ad lunam et ultra!