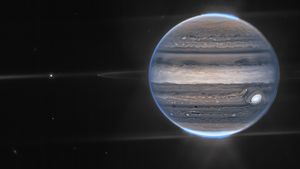 Cosmic Cycles


A Space Symphony
0:00/10:39

0:00/12:03

0:00/6:04

0:00/10:19

0:00/12:36

0:00/7:16

0:00/15:40
TITLE
Cosmic Cycles, A Space Symphony
DURATION
75'
YEAR OF COMPOSITION
2022-23
WORLD PREMIERE
May 11, 2023 - Capital One Hall, Tysons, VA
May 13, 2023 - Music Center at Strathmore, North Bethesda, MD
COMPOSITION OVERVIEW
Cosmic Cycles, A Space Symphony is a symphonic suite in seven movements, which Henry composed in collaboration with NASA's Goddard Space Flight Center. Performed live against a backdrop of out-of-this-world images, stunning animations, and groundbreaking visualizations from the Hubble and James Webb Space Telescopes, Cosmic Cycles is a musical and visual exploration of the universe and its origins.
Cosmic Cycles will be premiered in the Washington Area by the National Philharmonic at Capital One Hall in Tysons, VA on May 11, 2023 and at The Music Center at Strathmore in North Bethesda, MD on May 13, 2023, with Maestro Piotr Gajewski conducting.
MOVEMENTS
1. The Sun
2. Earth, Our Home
3. Earth as Art
4. The Moon
5. Planetary Fantasia
6. The Travelers (DART and OSIRIS-REx)
7. Echoes of the Big Bang
INSTRUMENTATION
3(III=pic).3(II&III=corA).2.bcl.2.cbn / 6.4.2.btbn.cbtbn.1 / timp.3perc (BD-cyms-glsp-gong-rainstick-shaker-2SD-susp.cym-tamb-tpl.bl-thundersheet-tom-t -t.bells-whip-wind machine-vib-xyl) /hp.pf(cel).synth* / str (18-16-12-10-8)**
*Synthesizer - Required sounds: 1) Grand Pipe Organ with all stops pulled, 2) Organ Pedals, and 3) Atmospheric or Cinematic Choir.
**Double Bass - C-extension required in Movements 1 and 6.