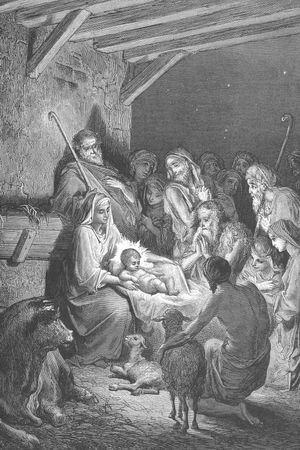 Hodie! (2020) - 2½'
for SATB choir, percussion, harp and organ, or
SATB choir and piano
---
---
COMPOSER'S NOTE
Hodie! is my setting of the beautiful Latin antiphon that concludes the morning prayer service, or Lauds, on Christmas Day. It is scored for performance by SATB choir and three-player instrumental ensemble consisting of percussion (one player), harp, and organ. Percussion instruments include bass drum, snare drum, and suspended cymbal. An instrumental reduction for piano is included in the choral score. 
Modal melodies and driving accompaniment set up the joyous Latin text, while mixed meter generates energy in this thrilling opener (or closer) for any Christmas concert.
THE TEXT 
Hodie Christus natus est.
Hodie Salvator apparuit.
Hodie in terra canunt Angeli.
Laetantur Archangeli.
Hodie exsultant justi, dicentes:
Gloria in excelsis Deo.
Alleluia!
TRANSLATION
Today Christ is born.
Today the Savior appears.
Today the angels sing on earth.
The Archangels rejoice.
Today the just exult, saying:
Glory to God in the highest.
Alleluia!