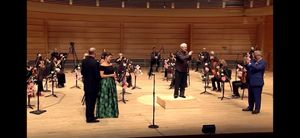 ---
COMPOSER'S NOTE
El seminarista de los ojos negros ("The Seminarian with Black Eyes") is my vocal-orchestral setting of the eponymous poem by Miguel Ramos Carrión (1875-1915), a novelist, dramatist and poet who gained considerable renown in his lifetime throughout the Spanish-speaking world. Carrión is celebrated for his comedies and lavish zarzuelas—musical theater works that flourished in Spain and Latin America during the late 19th and early 20th centuries.
Among Carrión's oeuvre, this poem is the one most unlike the others. It is a painfully moving story in which Carrión writes deftly about the feverish longing of unconsummated love.
Composed with the gorgeous voice of my friend and oft-collaborator, soprano Danielle Talamantes, in mind, El seminarista de los ojos negros is dedicated to my mother, who grew up in Nicaragua, in the five-hundred-year-old resort town of Granada on the northwestern shore of Lake Nicaragua.
The poem is especially dear to her. One of her fondest childhood memories is of her brother Carlos, a silver-tongued aesthete, reciting El seminarista before gatherings of family and friends. With the gentle swaying of palm trees and swells of waves from the nearby lakeshore as a backdrop, the poem would flow from Carlos's lips. His meter was steady, and his delivery gave a supple, almost voluptuous, impression of the unfolding tragedy. When he finished the recitation, often in a whisper, cries of grief would break the silence.
The poem tells the sad tale of a beautiful, young Salamancan girl, who fills her life with sewing and praying. Every day, she watches the seminarians on their walk. From her window, she falls in love with the seminarian with black eyes. One day, while walking with his brother seminarians, chanting and praying, he looks up and notices her, too. He falls in love and realizes that he can't become a priest. Without her, he would die.
Their love is requited from afar, but it is never consummated. One rainy winter morning, the girl is awakened with a start by the sound of a dirge. She leaps from her bed and runs to the window. The seminarians are carrying a casket. The only one missing from the funeral procession is her beloved seminarian with black eyes.
The years pass, and the beautiful Salamancan girl is now an old woman. Her hair is gray; her back stooped. Her days still filled with sewing and praying. Alone and sad, her eyes now pour silent tears of ice as she holds the memory of the seminarian with black eyes.