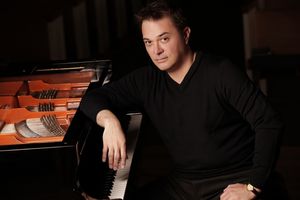 Flood (2019) - 2¼'
for high voice and piano, or
medium voice and piano
---
---
COMPOSER'S NOTE
Flood, my setting of text by James Joyce, dwells upon frustrated desire in a tone that is almost vain but always assertive. There is definitely an evocation of Eros in "Love's full flood, Lambent and vast."
Flood is available for high voice (soprano or tenor) and medium voice (mezzo-soprano or baritone). It is also part of my collection of ten art songs on poems by James Joyce that I wrote during the winter and spring of 2019:
Ten Poems of James Joyce (High Voice and Piano)
Ten Poems of James Joyce (Medium Voice and Piano)
THE TEXT
Gold-brown upon the sated flood
The rock-vine clusters lift and sway;
Vast wings above the lambent waters brood
Of sullen day.
A waste of waters ruthlessly
Sways and uplifts its weedy mane,
Where brooding day stares down upon the sea
In dull disdain.
Uplift and sway, O golden vine,
Thy clustered fruits to love's full flood,
Lambent and vast and ruthless as is thine
Incertitude.
James Joyce, 1882 - 1941