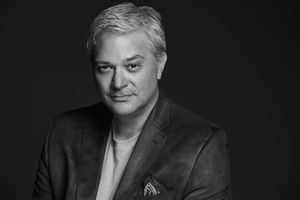 ---
COMPOSER'S NOTE
I originally wrote Strings in the Earth and Air as part of a cycle of ten art songs for solo voice that I adapted from my favorite poems by James Joyce. I later arranged three of those settings (Night Piece, Strings in the Earth and Air, and Bahnhofstrasse) for mixed chorus and piano for my dear friend Thomas Colohan, artistic director of the Washington Master Chorale. They made their premiere on October 27, 2019 at the Washington Master Chorale's 10th Anniversary Season opening concert in Washington, DC. 
Strings in the Earth and Air is a tender hymn of nature for SATB chorus and soprano solo with sparkling accompaniment and impressionist overtones. The song's sultry vocal lines emerge from a progression of minor and dominant ninth chords in this jazz-inspired rendering of Joyce's verse.
Strings is part my choral suite, Three Choral Songs on James Joyce. 
It is also available in high voice (soprano or tenor) and medium voice (mezzo-soprano or baritone) versions and is part of my complete collection of art songs with texts by James Joyce: Ten Poems of James Joyce.
THE TEXT
Strings in the earth and air 
Make music sweet; 
Strings by the river where 
The willows meet. 
There's music along the river 
For Love wanders there, 
Pale flowers on his mantle, 
Dark leaves on his hair.  
All softly playing, 
With head to the music bent, 
And fingers straying 
Upon an instrument.