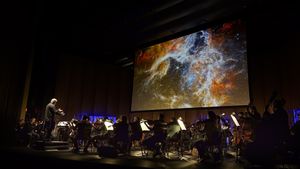 Earth as Art (2023) - 6'
third movement of Cosmic Cycles
arranged for flute, clarinet in B flat, harp and string quartet
---
COMPOSER'S NOTE
Earth as Art is the third movement of Cosmic Cycles, A Space Symphony, which I completed in 2023. Commissioned by the National Philharmonic, Cosmic Cycles is a full concert work in seven movements, which is paired with multimedia content that NASA's Goddard Space Flight Center created specifically for it. Each movement alludes to stunning science imagery and data visualizations of the Sun, Earth, Moon, Planets, and Cosmos—from the Pillars of Creation to the M87 Supermassive Black Hole—which inspired the composition of that movement.
Cosmic Cycles premiered May 11, 2023 at Capital One Hall in Northern Virginia with my friend, Maestro Piotr Gajewski conducting the National Philharmonic. A sold-out performance followed on May 13, 2023 at the Music Center at Strathmore, the 2,000-seat concert hall in Maryland's Capital Region.
The Washington Post described it as "a harmonically rewarding wander through the stars." Agence France-Presse called it "the ultimate blend of art and science."
This version of Earth as Art is my chamber arrangement for flute, clarinet in B flat, harp, and string quartet. The expressive violin solo, which I composed especially for NatPhil concert master Laura Colgate, transforms this symphonic poem into a tender exultation of our home planet.
In film-with-orchestra performances, Earth as Art introduces mesmerizing images of river deltas, mountains, and other sandy, salty, and icy landscapes captured by the Landsat Program, a series of Earth-observing satellite missions jointly managed by NASA and the U.S. Geological Survey. The aesthetic beauty in the patterns, shapes, colors and textures of the terrestrial land and seascapes may even evoke some famous works of art.
I would encourage chamber ensembles to perform this piece with the multimedia content that NASA created specifically for it. A concert copy of the video without audio is available online at the Scientific Visualization Studio hosted by NASA's Goddard Space Flight Center: https://svs.gsfc.nasa.gov/14319.