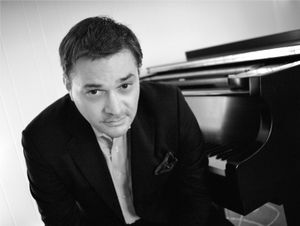 ---
COMPOSER'S NOTE
I met renowned violinist Gil Shaham at National Philharmonic's 2021-22 season opening concert. I was there to hear the world premiere of one of my works, and Gil was performing Beethoven's Violin Concerto in D Major.
After the concert, Gil and I had a chance to talk. Beyond his virtuosity, Gil is known for his warmth and generosity of spirit. These hallmark virtues were as evident in his personal manner as in his performance.
"Write violin music!" he enjoined me. "You must write for the violin."
I was honored! One of the great violinists of our time was encouraging me to compose for his instrument. I might have written it off to Gil's characteristic courtesy or modesty, but he texted me the next day to remind me:
Write violin music!
Gil and I stayed in touch. I studied his many performances on YouTube—violin concertos by Mendelssohn, Brahms, Tchaikovsky, Bruch, Barber (one of my personal favorites), and more. In each, he penetrates to the very heart of the work. For Gil, virtuosity is not merely a technical matter. It is a compelling balance of precision and emotion few performers ever master.
Undaunted, I started work on a new violin rhapsody for Gil.
Why a rhapsody?
The rhapsody is a form with which I'm familiar. I used it most recently in The Love Song of J. Alfred Prufrock, my rhapsody for voice and orchestra that premiered that opening night last fall. Typically, it is an episodic, one-movement work with a wide range of contrasting moods, colors, and even musical styles. It should also evoke a sense of improvisation and spontaneous inspiration. 
This Rhapsody for Violin and Orchestra checks off these boxes.
It starts with a percussive burst punctuated by a Bartók pizzicato, which is a special technique popularized by Hungarian composer Bela Bartók in which the plucked string strikes the fingerboard with a lot more force than a normal pizzicato. It is especially effective performed by the double basses on an open string.
The violin solo introduces an arousing melody supported by a fast-paced Malfouf, a rolling rhythmic pattern common in Middle Eastern music and counted 123-123-12. The rhythm is tapped out with the claves, a pair of wooden sticks popular in Afro-Cuban music.
Meanwhile, the violin embarks on a fifteen-minute lyrical odyssey from anxious to yearning, tender to ethereal, comical to martial. There are three cadenzas along the way.
At last, we are led to a triumphant coda where the violin sings high above the din of a tutti C minor seventh. The ensemble sweeps to a forte-fortissimo D major climax—enhanced by an exotic sounding minor second—as our rolling Malfouf returns for one last hurrah.