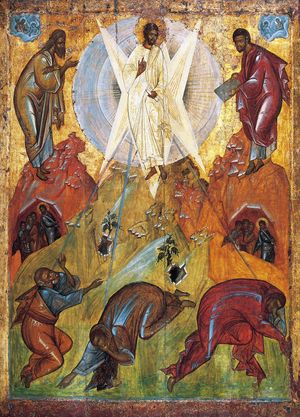 The Mount (2015) - 6'
for soprano solo
and piano
---
---
COMPOSER'S NOTE
The Mount is a setting of text by New York-based poet and choral conductor Mark Riddles. Together with Fragrance, also for high voice and piano, it recasts familiar biblical passages in the sensory language of sight, in the case of The Mount, and smell, in Fragrance. 
The Mount was commissioned in 2015 by The Casement Fund, which supports new directions in creative writing, especially in connection with the other arts. Every year, it awards its Triad Grant to three artists: a vocalist, who in turn selects a composer and a lyricist to compose an original composition with original text for solo voice. Soprano Danielle Talamantes, Mark Riddles and I were the 2015 award recipients. 
The Mount draws its inspiration from the mystical vision of the Transfiguration recounted in the Gospels of Matthew, Mark and Luke. Phrygian dominant scales evoke the distinctively exotic sounds heard in Middle Eastern musical traditions and Jewish liturgical chants. 
At The Mount's climax midway through the piece, the vocal line soars above the accompaniment's sweeping arpeggios, then shifts to a lyric pianissimo as it elucidates Riddles' beautiful verse. 
The Mount made its world premiere on November 15, 2015 at the historic Episcopal Church of the Holy Trinity in New York City.
I wrote an orchestral expansion of The Mount in the fall of 2016. It premiered on October 23, 2016 at the Manchester Symphony Orchestra's opening concert of its 78th season. It featured Danielle singing the solo with artistic director Scott Humphries conducting.
THE TEXT 
Enshrouded, the Mount promises a gift of vision that enlarges sight. 
Sensing this, I catch my breath 
which soon escapes and moves urgently upwards. 
My soul, following, flees from deep within my heart. 
The meeting of sky and Mount is covered. 
I enter through a funnel 
Of warmth and mist, 
Of light and love. 
Caressed by the knowing of divine love, 
I am conjoined with all who have come before 
And those who will come after. 
At its peak is the Mount's blessing received: 
The peace of union. 
I am alive with all and at one with all. 
I now withdraw to be at one with the world. 
Mark Riddles, b. 1950