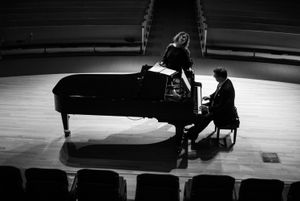 Fragrance (2016) - 6'
for soprano solo
and piano
---
---
COMPOSER'S NOTE
Together with The Mount, Fragrance is part of a cycle of poems by New York-based poet and choral conductor Mark Riddles in which he recasts familiar biblical passages in sensory language - smell, in the case of Fragrance, and sight, in the case of The Mount. The first piece in the cycle, The Mount, was commissioned in 2015 by The Casement Fund, which supports new directions in creative writing, especially in connection with the other arts.
Using the melodic themes established in The Mount, Fragrance presents olfactory images of rising incense and flower blossoms combined with Lazarus raised from the dead to symbolize the human journey from the profane to the sacred, mortality to incorruptibility.
In 2019, I recorded the piece with soprano Danielle Talamantes at Sono Luminus studios in rural Boyce, Virginia. It is included in the world premiere recording of my compositions for solo voice, At That Hour, released by AVIE Records.
Fragrance is dedicated to my dear friend Sherry Watkins, a steadfast supporter of the arts and chair of the Classical Voice Programs for the National Society of Arts and Letters in the Washington, D.C. area.
THE TEXT 
In the vale, the blossom opens, 
Its petals unfold in the damp of dew. 
Its fragrance is released.  
Its yearning scent arises as incense, 
A prayer to the creator, 
A hymn to the eternal.  
Flower, frankincense and myrrh, 
Even the aroma of Lazarus arisen 
Enwraps us and we are quickened 
       to that which lives forever. 
Mark Riddles, b. 1950