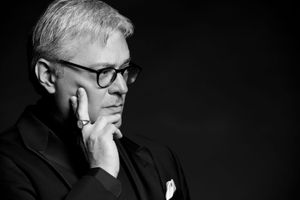 Night Piece (2019) - 3'
for high voice solo and piano, or
medium voice solo and piano
---
---
COMPOSER'S NOTE
Replete with ecclesiastical imagery, my setting of James Joyce's Night Piece is a reverent, if not haunting portrait of "night's sin-dark nave." With its soaring melody, the music swells into a tender exultation of the night sky. Joyce's characteristic neologisms abound. A "star-knell" tolls as "upsoaring" clouds surge "voidward," high above the "adoring waste of souls."
Night Piece is suitable for recitals, competitions and auditions and is available in high voice (soprano or tenor) and medium voice (mezzo-soprano or baritone) versions. It also forms part of my complete collection of art songs with texts by James Joyce:
Ten Poems of James Joyce (High Voice and Piano)
Ten Poems of James Joyce (Medium Voice and Piano)
Night Piece is available in two choral versions (SATB) and is included my choral suite, Three Choral Songs on James Joyce.
THE TEXT
Gaunt in gloom
The pale stars their torches,
Enshrouded, wave.
Ghost-fires from heaven's far verges faint illume—
Arches on soaring arches—
Night's sin-dark nave.
Seraphim,
The lost hosts awaken
To service, till
In moonless gloom each lapses, muted, dim,
Raised when she has and shaken
Her thurible.
And long and loud
To night's nave upsoaring,
A star-knell tolls—
As the bleak incense surges, cloud on cloud,
Voidward from the adoring
Waste of souls.