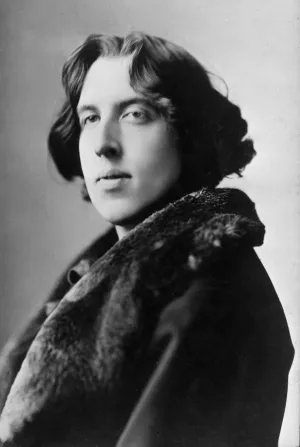 ---
COMPOSER'S NOTE
I have always been a fan of Oscar Wilde, and Requiescat ("May She Rest") is my first setting of text by the iconic poet and playwright of such works as The Picture of Dorian Gray and comic masterpieces, Lady Windermere's Fan and The Importance of Being Earnest. 
Wilde wrote it seven years after his sister Isola died in 1867, less than two months before her 10th birthday. Wilde was 12 at the time of her death and later made regular visits to her grave. Isola's doctor recalled that Wilde's "lonely and inconsolable grief" sought relief in "long and frequent visits to his sister's grave in the village cemetery." 
Fittingly subtitled A "Wilde" Stride, it is rendered using a stride piano accompaniment reminiscent of my arrangement of Duke Ellington's Come Sunday. While I heard the blues a-calling me, it also had to remain accessible to classically trained vocalists. Therefore, it is fully notated, but both singer and pianist should consider the notation more a transcription of an improvised performance. 
In the fall of 2019, I recorded the piece at Sono Luminus studios in rural Boyce, Virginia with my friend, bass-baritone Kerry Wilkerson. Kerry's voice combines the amber tone of a lyric baritone with the imposing weight demanded by low-lying writing, such as in Handel's oratorios. Kerry has also sung every genre of music, from opera and classical to jazz and pop. 
In the weeks leading up to recording, Kerry experimented with the closing line. It's a jazzy, downward progression of four dominant ninth chords accompanying four syllables, Re-qui-es-cat. When the Eureka! moment struck, Kerry was all jazz hands. "You've got to think Kelsey Grammer," he explained, "Tossed Salad and Scrambled Eggs!" 
Bravo!
THE TEXT 
TREAD lightly, she is near  
Under the snow,  
Speak gently, she can hear  
The daisies grow.  
All her bright golden hair  
Tarnished with rust,  
She that was young and fair  
Fallen to dust.  
Lily-like, white as snow,  
She hardly knew  
She was a woman, so  
Sweetly she grew. 
Coffin-board, heavy stone,  
Lie on her breast,  
I vex my heart alone  
She is at rest.  
Peace, Peace, she cannot hear  
Lyre or sonnet,  
All my life's buried here,  
Heap earth upon it. 
Requiescat. 
Oscar Wilde, 1854 - 1900