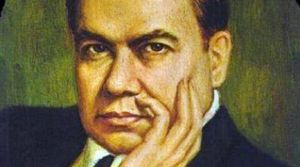 LICENSING
American Society of Composers, Authors and Publishers (ASCAP)
WORLD PREMIERE
May 11, 2023
Mexican Cultural Institute of Washington, DC
Nocturno (2023) - 5'
duet for soprano solo,
tenor solo and piano
---
---
PROGRAM NOTE
Nocturno, a duet composed for Metropolitan Opera soprano Danielle Talamantes and tenor David Portillo, draws on Dehlinger's Nicaraguan heritage. Premiering May 11, 2023 at the Mexican Cultural Institute of Washington, DC, it is a setting of a poem by Rubén Darío, the Nicaraguan poet who initiated the Spanish-language literary movement known as modernismo and whose lifelong patron was progressive Latin American leader José Santos Zelaya, the composer's great-great-grandfather.
TEXT
Silencio de la noche, doloroso silencio
nocturno... ¿Por qué el alma tiembla de tal manera?
Oigo el zumbido de mi sangre,
dentro de mi cráneo pasa una suave tormenta.
¡Insomnio! No poder dormir, y, sin embargo,
soñar. Ser la auto-pieza
de disección espiritual, ¡el auto-Hamlet!
Diluir mi tristeza
en un vino de noche
en el maravilloso cristal de las tinieblas . . .
Y me digo: ¿a qué hora vendrá el alba?
Se ha cerrado una puerta . . .
Ha pasado un transeúnte . . .
Ha dado el reloj tres horas . . . ¡Si será Ella! 
Rubén Darío
TRANSLATION
Silence of the night, painful nighttime silence...
Why does the soul tremble this way?
I hear the hum of my blood,
within my skull there passes a gentle tempest.
Insomnia! One cannot sleep, and yet,
dreams. To be the auto-piece
of spiritual disection, the auto-Hamlet!
Dilute my sadness
in a night wine
in a marvelous crystal of darkness…
And I ask myself: when will dawn come?
A door has closed…
Someone has passed by…
The clock has struck three... It must be she! 
Translation by the Composer