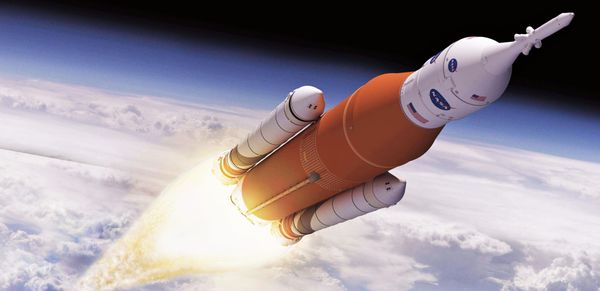 Return to the Moon, a fanfare for brass and percussion, premieres March 17. Heralding NASA's historic Artemis missions to the moon and beyond, Dehlinger's powerful anthem will mark the space agency's rollout of its Space Launch System, the world's most powerful rocket, at the televised Kennedy Space Center ceremony.
Live coverage for the rollout begins at 5 p.m. EDT on Thursday, March 17, 2022 and will include live remarks from NASA Administrator Bill Nelson and other guests. Coverage will air on NASA Television, the NASA app, and the agency's website. 
Return to the Moon will be performed by the University of Central Florida Symphonic Band as the Space Launch System (SLS), the 322-foot-tall rocket with the Orion crew capsule up top, begins its 4-mile journey from the Vehicle Assembly Building to Launch Pad 39B at NASA's Kennedy Space Center in Florida. 
At the pad, NASA will conduct a final pre-launch test known as a wet dress rehearsal, which includes loading the SLS propellant tanks and conducting a launch countdown. 
NASA will also hold a media teleconference on Monday, March 14 to discuss the upcoming debut of the agency's mega moon rocket and integrated spacecraft for the uncrewed Artemis I lunar mission, which will launch this spring. 
Artemis I will be the first in a series of increasingly complex missions that will provide the foundation for human deep space exploration. Through the Artemis missions, NASA will land the first woman and the first person of color on the Moon, paving the way for a long-term lunar presence and serving as a steppingstone on the way to Mars.
For more on NASA's Artemis Program, please visit: https://www.nasa.gov/specials/artemis.