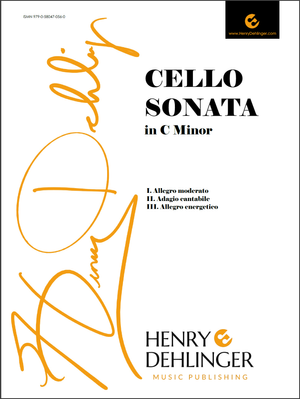 Henry's three-movement Cello Sonata in C Minor opens with images of wild, windy moors. The second movement is a mesmerizing fantasy with modal melodies and wistful phrases. The reverie yields to fitful bursts of serial arpeggios with a hint of funk in the final movement. Sheet music is now available at J.W. Pepper.
Henry was inspired to write his first cello sonata because of his collaboration with a talented young cellist from Boston, named Carolyn Regula. The fact that cello music is his wife Lauren's absolute favorite made his decision to write a cello sonata all the easier. 
But first, the backstory. 
In early spring 2020, Henry completed his Preludes of T.S. Eliot, a four-movement chamber work for soprano, cello, and piano, which he wrote for soprano Danielle Talamantes. It would have premiered in April, if not for the wave of postponements and cancellations due to the Coronavirus outbreak. 
With live performances down to a trickle, Henry and Danielle decided they would have to premiere Preludes virtually. 
All they needed to make it happen was a darn good cellist! 
Enter Carolyn! 
They invited Carolyn to complete the trio for this project. Danielle became acquainted with Carolyn through Close Encounters With Music, which presents thematic concerts of chamber music in the Berkshires of western Massachusetts. 
Carolyn has an impressive resume. She held her first principal chair at age 11 and won her first concerto competition at age 15. As The Cello Doll, her colorful alter ego, she produces edgy classical music videos with a Gothic flare, which have gone viral! 
While watching one of Carolyn's videos, Lauren dropped Henry a hint that it might be time to bring out his inner Yo-Yo Ma and compose a cello sonata—one which The Cello Doll might find engaging. 
The result is Cello Sonata in C Minor for cello and piano. 
At first hearing, it may seem less a sonata than a suite. While there is a cross-thematic unity that encompasses the entire work, each of the three movements is distinct. 
The first movement, Allegro moderato, conjures images of wild, windy moors. It is a dark, untamed landscape but rendered as "traditional" classical music. 
The musical language is minimalist, comprised of repeating cycles of broken chords in the piano accompaniment. They reiterate a precise pattern of legato sixteenth notes from which the agitato cello melody emerges. A dialogue later develops between cellist and pianist, a playful call-and-response that heralds the closing of the movement.  
In the second movement, Adagio cantabile, one can imagine swaying palm trees and the smell of jasmine in a mesmerizing biblical fantasy of Samson and Delilah or David and Bathsheba. A slow, modal cello melody opens the movement. It acquires a melancholic character with the introduction of the piano accompaniment.  
There is a wistful, almost reverent, feel as the melody swells into a tender exultation. The movement closes, almost naturally, as the opening melody unites again with the harmony of the opening piano accompaniment.  
The third movement, Allegro energetico, begins with striking dissonant chords, jolting us from the blissful reverie of the second movement. Fitful bursts of serial arpeggios juxtapose with melodic interludes. 
The cello later starts a walking bass line with a touch of funk that sets a new mood and tonality before handing it off to the piano and initiating a sultry new melody. Multiple musical arguments that incorporate themes from the first two movements lead back home to conclude the work.