---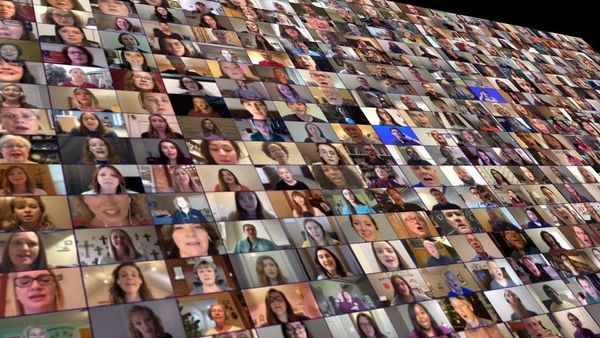 Together in Song, the inaugural 2020 Virtual Choral Festival kicks off this week. Sponsored by Metropolitan Opera soprano Danielle Talamantes and bass-baritone Kerry Wilkerson, it brings together singers of all ages to learn how to apply healthy, sustainable vocal techniques to choral singing. All in a safe, virtual environment.
Participants study repertoire representing six centuries of choral literature: Renaissance, Baroque, Classical, Romantic, 20th century and 21st century. Vocal techniques, styles and traditions build from period to period until the current period is reached. Choral techniques that have been applied to the music of the great masters will be applied to the concluding piece of the program, a 21st century work —Henry's Hodie!
Hodie! is Henry's setting of the beautiful Latin antiphon that concludes the morning prayer service, or Lauds, on Christmas Day. It is scored for performance by four-part chorus and a three-player instrumental ensemble consisting of percussion, harp, and organ.
Modal melodies and driving accompaniment set up the joyous Latin text, while mixed meter generates energy in this thrilling opener or closer for any Christmas concert. (The term modal refers to scales which can be described as having an exotic, almost middle eastern quality. They're commonly used in jazz and pop music, and they originated from a time before "standard" major and minor scales were clearly defined.)
The festival begins with a keynote address by Catherine Dehoney, President and CEO of Chorus America, who will discuss the near-term future of choral singing as it relates to the global coronavirus pandemic. Internationally renowned nutritionist and classically trained mezzo-soprano Monica Reinagel, better known as the Nutrition Diva, will lead a workshop on health and nutrition for vocalists. Monica's television appearances include The Dr. Oz Show, CBS News, ABC Eyewitness News, Today and NY1. Henry will talk about composing for the voice using Hodie! as a case study.
Danielle and Kerry, both highly sought master class clinicians, will conduct workshops on vocal health, provide voice lessons and lead rehearsals. The festival culminates with singers recording their vocal lines for the virtual choral program representing all six centuries of music. About two weeks after the festival closes, there will be a watch party for the virtual choral program. The watch party will be open to participants and guests.
Stay tuned for more.