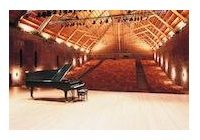 Soprano Danielle Talamantes, a rising star on the international opera scene, and pianist Henry Dehlinger, widely acclaimed for his interpretation of Spanish classical music, will celebrate the release of their critically acclaimed new album, Canciones españolas, at a CD Release Concert on Sunday, November 23, 2014 at Vienna Presbyterian Church, the Washington-area venue where it was recorded. Following the performance, Talamantes and Dehlinger will be on hand to greet fans and autograph CDs.
The concert program includes songs and arias by Enrique Granados, Manuel de Falla, and Joaquin Turina, featured on Talamantes and Dehlinger's MSR Classics release, as well as musical teasers from upcoming projects.
Where: Vienna Presbyterian Church, 124 Park Street, NE, Vienna, VA 22180
When: 7:00 PM
Tickets: $20 - All seats are general admission.
About Danielle Talamantes
Soprano Danielle Talamantes is an international recitalist who made her Carnegie Hall debut in a sold-out solo recital in 2007. Since then, she has sung as soprano soloist with the National Symphony Orchestra, Baltimore Symphony Orchestra, Choralis, Hochschule für Musik Hanns Eisler in Berlin, Nashville Symphony, National Philharmonic Chorale & Orchestra, Oratorio Society of Virginia, Seoul Philharmonic, Théâtre du Châtelet in Paris, Trujillo Symphony Orchestra of Peru, and The United States Army Band. Talamantes joined the Metropolitan Opera roster in 2011, covering the role of Najade in Richard Strauss' Ariadne auf Naxos. She was subsequently re-engaged to cover the role of the Flower Maiden in Wagner's Parsifal, the soprano in the quartet of lovers in the Baroque pastiche, The Enchanted Island, and most recently to perform in Strauss' Die Frau ohne Schatten.
In 2013, she made her debut as Mimì in Puccini's La bohème with the Capital City Symphony and performed the soprano lead in the world premiere production of Janice Hamer's Lost Childhood with the National Philharmonic in Washington D.C. She was Soprano-in-Residence for the Summer 2012 Marlboro Music Festival in Marlboro, Vermont. Talamantes made her Lincoln Center Alice Tully debut in the 2013-14 season as the soprano soloist in Bob Chilcott's Requiem, and she will make her stage debut in a return to the Metropolitan Opera in the 2014-2015 season as Frasquita in Bizet's Carmen.
[ www.DanielleTalamantes.com ]
About Henry Dehlinger
Widely acclaimed for his interpretation of Spanish classical music, pianist Henry Dehlinger has distinguished himself on many celebrated stages, from the San Francisco War Memorial and Performing Arts Center to the White House in Washington, D.C. Born in San Francisco, Dehlinger started playing the piano at age six and singing at seven. His first music mentor was conductor and choirmaster Dr. William Ballard, Artistic Director of the San Francisco Boys Chorus, whom Dehlinger credits for his early success. By age ten, Dehlinger was part of the Bay Area music scene, performing at the San Francisco Opera with operatic legends that include Luciano Pavarotti, Montserrat Caballé and Georgio Tozzi, and at the San Francisco Symphony under the direction of Edo de Waart. At twelve, Dehlinger became a pupil of renowned piano virtuoso Thomas LaRatta with whom he continues piano performance studies.
Dehlinger has been a featured piano soloist with the United States Army Chorus and guest performer on Washington's Embassy Row. He has also performed for numerous notable public officials, including the President of the United States and the Prince of Wales. Previously a technology entrepreneur, he released his first solo piano album in 2011, Evocations of Spain, featuring selections from Isaac Albéniz's Iberia and Suite española and Enrique Granados' Danzas españolas, Seis piezas sobre cantos populares españoles, and Goyescas. In August 2014, he released his second album, Canciones españolas, to critical acclaim on the MSR Classics label. A collaboration with Metropolitan Opera soprano Danielle Talamantes, a rising star in the international opera scene, the album features a gorgeous recital of Spanish songs and arias by Enrique Granados, Manuel de Falla and Joaquín Turina.
He lives between Washington, D.C. and California with his wife, Lauren, and their Shetland Sheepdogs, Lucy and Spye. [ www.HenryDehlinger.com ]
About MSR Classics
MSR Classics is a division of MSR Music, founded in 1997 as Musicians Showcase Recordings by Robert LaPorta, a 26-year veteran of the music industry. Mr. LaPorta served as Director of Classics at Angel Records and the EMI-Virgin Classics label group. He was also Marketing and Production Manager with London-Decca Records, Deutsche Grammophon and Philips Classics of the PolyGram label group. Mr. LaPorta is a voting member of the National Academy of Recording Arts and Sciences (NARAS) and former member of the Grammy Classical Committee. [ www.msrcd.com ]