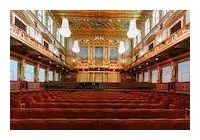 Pianist Henry Dehlinger will join Metropolitan Opera soprano Danielle Talamantes and United States Army Chorus tenor Pablo Talamante as they perform operatic favorites by Donizetti, Puccini, Granados, Obadors, and more!
"An Evening of Opera Highlights" will be held on Sunday, June 1, 2014 at Vienna Presbyterian Church, 124 Park Street NE, Vienna, VA 22180 at 6:00 PM.
About Danielle Talamantes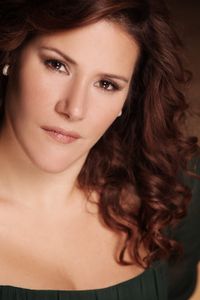 Soprano Danielle Talamantes is an international recitalist who made her Carnegie Hall debut in a sold-out solo recital in 2007. Since then, she has sung as soprano soloist with the National Symphony Orchestra, Baltimore Symphony Orchestra, Choralis, Hochschule für Musik Hanns Eisler in Berlin, Nashville Symphony, National Philharmonic Chorale & Orchestra, Oratorio Society of Virginia, Seoul Philharmonic, Théâtre du Châtelet  in Paris, Trujillo Symphony Orchestra of Peru, and United States Army Band.
Talamantes joined the Metropolitan Opera roster in 2011, covering the role of Najade in Richard Strauss' Ariadne auf Naxos. She was subsequently re-engaged to cover the role of the Flower Maiden in Wagner's Parsifal, the soprano in the quartet of lovers in the Baroque pastiche, The Enchanted Island, and most recently to perform in Strauss' Die Frau ohne Schatten.
In 2013, she made her debut as Mimì in Puccini's La bohème with the Capital City Symphony and performed the soprano lead in the world premiere production of Janice Hamer's Lost Childhood with the National Philharmonic in Washington D.C. She was Soprano-in-Residence for the Summer 2012 Marlboro Music Festival in Marlboro, Vermont. In the 2014-2015 season, Talamantes makes her stage debut in a return to the Metropolitan Opera as Frasquita in Bizet's Carmen, and her Lincoln Center debut at Alice Tully Hall as the soprano soloist in Bob Chilcott's Requiem.
About Pablo Talamante
A native of Sonora, Mexico, tenor Pablo Talamante made his operatic début with Kentucky Opera's production of Salome as the Third Jew. Since then, he has sung many roles on a variety of stages in both concert and opera throughout the United States and Mexico and has been in high demand for Ariel Ramírez's Misa Criolla.
He currently serves as the Latin American representative of Hispano-American music to the United States Army Band (Pershing's Own) and Chorus, as well as one of their soloists. The ensembles perform for many dignitaries and high ranking officials including the President of the United States.
His musical education comes from the University of Louisville and the Catholic University of America where he is currently finishing his master's degree in Latin American Musical Studies. He currently studies voice with Jaques Trossell. He is also on the rosters of Stachi Modeling agency and Gala Hispanic Theatre in Washington, DC.
About Henry Dehlinger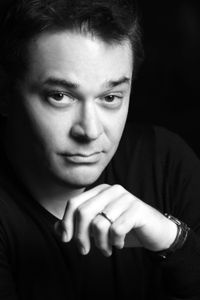 Pianist Henry Dehlinger has distinguished himself on celebrated stages from the San Francisco War Memorial and Performing Arts Center to the White House in Washington, D.C.
Born in San Francisco, Dehlinger started playing the piano at age six and singing at seven. By age ten, he was part of the Bay Area music scene, performing with operatic legends that include Luciano Pavarotti, Montserrat Caballé and Giorgio Tozzi. A featured piano soloist with the United States Army Chorus and guest performer on Washington's Embassy Row, Dehlinger has also performed for numerous notable public officials, including the President of the United States and the Prince of Wales.
Previously a technology entrepreneur, he released his first solo piano recording in 2011, Evocations of Spain, featuring selections from Isaac Albéniz's Iberia and Suite española and Enrique Granados's Goyescas and Danzas españolas.
Now, widely acclaimed as a significant interpreter of Spanish classical piano, he is currently working on a brand new classical album with Metropolitan Opera soprano Danielle Talamantes, a rising star in the international opera scene. Entitled Canciones españolas, it will feature great Spanish art songs and arias by Enrique Granados, Manuel de Falla and Joaquín Turina. It will be released summer 2014 on the MSR Classics label.
Dehlinger earned his BA from Santa Clara University, and studied Spanish literature at the University of Valencia in Spain.