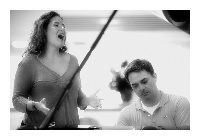 Soprano Danielle Talamantes and pianist Henry Dehlinger are happy to announce that the "first edits" of their upcoming classical album, Canciones españolas, have been completed.
Producer Richard Price, whose work has been honored with two 2005 Grammy nominations and 1993 Grammy award, and engineer Wayne Hileman from Candlewood Digital went through the recording session takes for these "first edits."
This iteration of the album represents what Messrs. Price and Hileman think is the best available material. Not starting points, but a finished, polished and ready-to-press CD.
What's next? Talamantes and Dehlinger will give the CD a few good listens (or ten or twenty). Then, they'll listen to each track in detail just to make sure there aren't any spots they'd like to revisit. Last, they'll make sure they like the timings between tracks.
Candlewood Digital puts a blurb on their recordings that have large dynamic ranges. (Canciones españolas has a huge dynamic range, and that's a good thing!):
"This high-resolution CD reproduces the music's full dynamic range, as intended by the performers. To enjoy this recording, put it on a high quality system and turn it up!"
"Many people now listen to highly compressed music all the time and think there is something wrong with a CD if they have to turn their volume knob up, which is not the case, especially with great classical music recordings like this one," says Richard Price. "The knob certainly should be turned up for this CD so you can enjoy both the soft nuances and passionate fortissimo moments."
After a couple straight-through listens, Talamantes and Dehlinger think it's absolutely fantastic!
More to come…
About Candlewood Digital
Candlewood Digital LLC is recognized as one of the finest classical recording firms in the United States. It was founded in 2006 by Richard Price and Wayne Hileman, following thirty combined years of working together at one of New York's premier classical recording studios. Mr. Price has over 900 commercial CDs to his credit and was honored with two Grammy nominations and one Grammy award. Mr. Hileman has 22 years of experience in the classical recording business producing, engineering, editing & remastering new and historic recordings for numerous labels and artists.